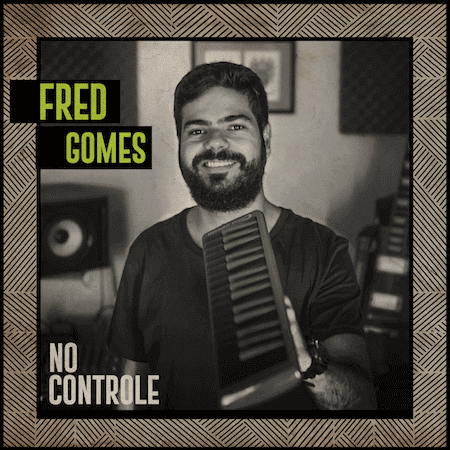 This album was produced between January and March 2018 and it can be divided in 2: tracks "Contato consciente", "Love is solution" and "Força pra viver" were composed sometime ago and they were waiting for a good moment to be finalized and released. While tracks "Uma vez só", "Saber olhar pra dentro" and "Quando te encontrei" were composed during the album production.
This work expresses what's best in the artist: when inspirations come, there's nothing that can hold him. And it was in a powerful inspiration moment that Fred decided to start producing this album, so he could put out a kind of musical production that is very explored in reggae music nowadays: the mix of digital timbres with organic musical instruments playing together.
All recorded and performed by the artist in his studio, tracks reveal his talent for composition and arrangement, besides expressing very well the feelings and reflections that Fred Gomes lives everyday.
This album was mixed by Lincoln Rossi and mastered by Buguinha Dub, both Brazilian producers. It's an InBraDub label release.
It deserves to be listened with attention because of the content that it carries in its messages and also because of the surrounding groove of each track.
An invitation for a nice dance in tune with good and conscious messages.
1 – Contato consciente
2 – Força pra viver
3 – Uma vez só
4 – Love is solution
5 – Saber olhar pra dentro
6 – Quando te encontrei
Album: No Controle
Artist: Fred Gomes
Recording: Fred Gomes

Todos os instrumentos e beats por Fred Gomes

Mix: Lincoln Rossi – Correra Records
Master: Buguinha Dub – Studio Mundo Novo
Design: Roama Design
Photo: Vitor Devechiati
Label:

InBraDub Music

Catalog:

INBRADUB-001D (IBD001)

Format:

Digital

Release date:

10/08/2018

Genre/Style:

Reggae/Dancehall